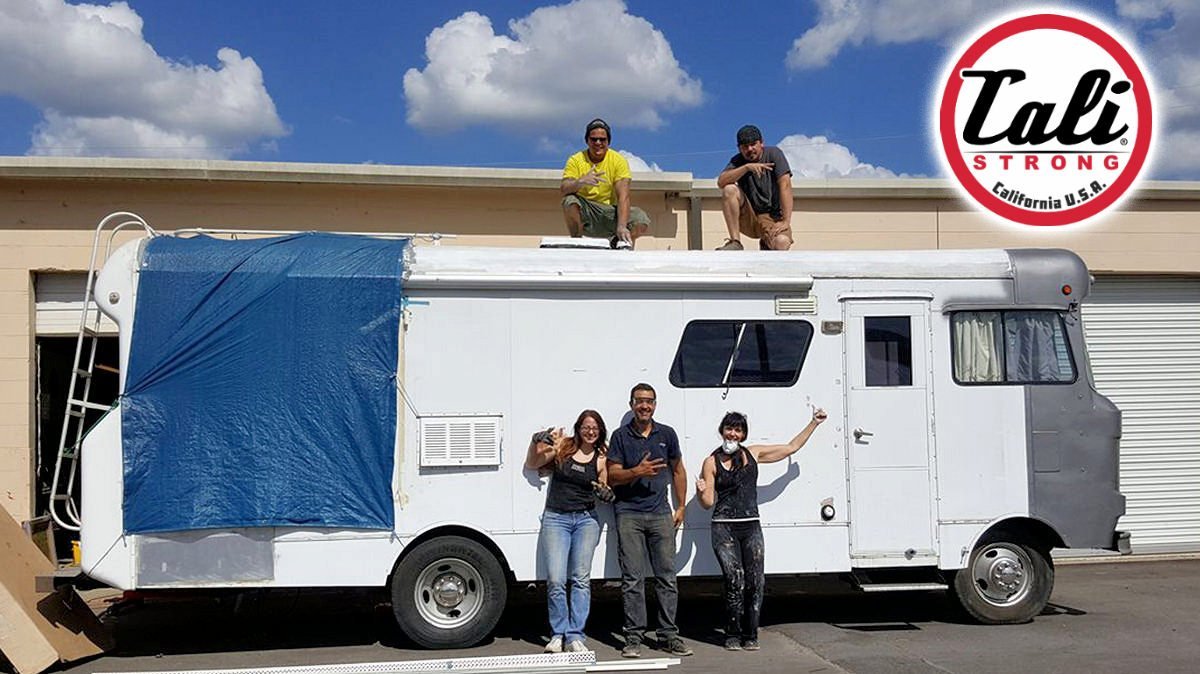 CALI Strong's New Mobile Retail Truck Pop-Up Store
CALI Strong's flagship mobile retail truck is a retrofitted 1969 vintage Dodge RV. The truck is being renovated in Orlando, FL by Krystiano D'Costa (Instagram: @krystiano021), a renowned Disney artist from Brazil.
D'Costa has re-modeled the interior to provide extra transportation space for our entire product line. He has added a novel selling window on the side of the truck similar to a food truck. The truck will feature TV screens and a state of the art entertainment center for events.
The custom paint job includes a rust and patina finish with a huge California bear on top in a reflective finish, a glow-in-the-dark logo & ocean creatures molded into the finish. Additionally, 10,000 silver rivets will give the traveling store a one-of-a-kind attitude that reflects the personality of Cali Strong – The California Sports Company.
The finishing touches of the truck will be done in Phoenix, AZ before it rolls into San Diego, CA for its debut.
The mobile pop-up retail truck is the latest national shopping sensation. CALI Strong's new pop-up store will offer consumers a different and exciting shopping experience.
For everyone at CALI Strong, the chance to interact with customers and fans on a one-on-one basis is paramount. Being able to travel and discover new fans across the country opens up thrilling opportunities not possible any other way.
When you walk into the mall, or the Gap, it's not a personal experience. We are looking to change that.
Traveling to local communities, sporting events, concerts, military bases, fitness events and Hollywood premieres exposes CALI Strong to crowds numbering between 10,000 and 80,000 people at each stop.
We see mobile as one of the three retail experiences we plan to offer. We call this three prong presence strategy I.O.O. [ ahy-oh ]:  In-store, Online, & On-wheels. There are limitations to all three, but we feel the combination will allow us to maximize our reach to our dedicated fans.
CALI Strong Pop-Up Store Gallery