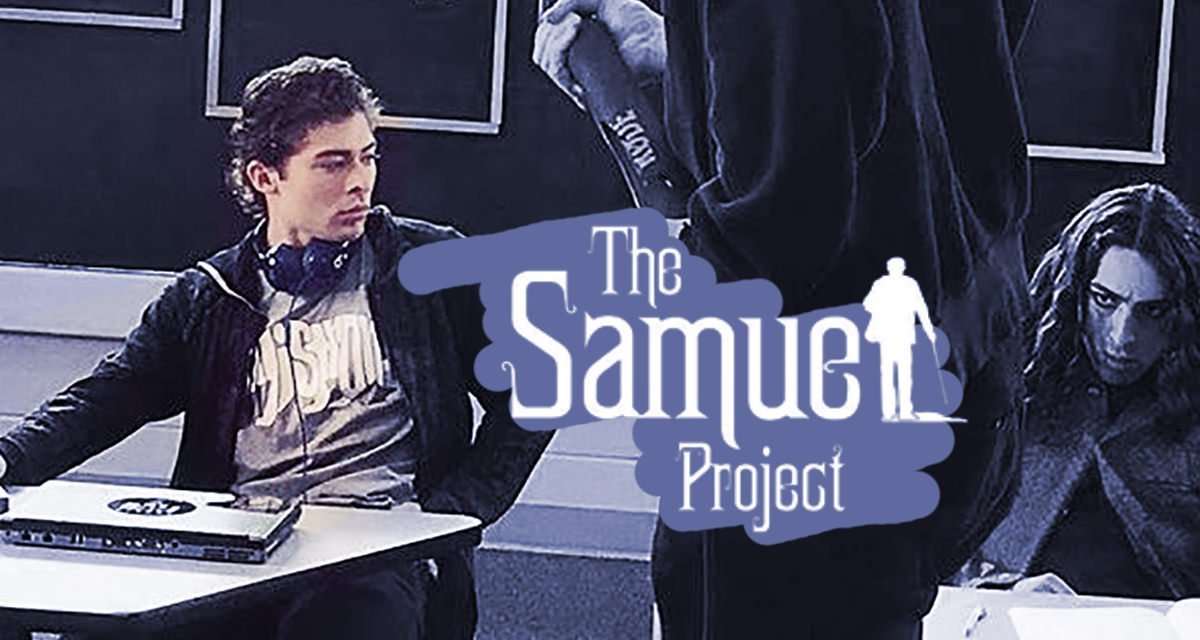 Ryan Ochoa Stars In The Indie Drama Feature Film "The Samuel Project"
Ryan Ochoa, star of the hit Disney XD comedy series Pair of Kings, and Emmy winner and Golden Globe nominee Hal Linden, star of the long running classic American sitcom Barney Miller have joined the cast of the indie film The Samuel Project that begin principal photography in San Diego on March 2017.
The indie drama feature film, directed by Marc Fusco, the former Steven Spielberg assistant who helmed the comedy My Uncle Rafael and the tense heist film Stealing Time, tells the story of a teen, played by Ryan Ochoa, who gets to know his grandfather Samuel, played by Hal Linden, when he makes him the subject of an animated film project for school. The young teen discovers that his grandpa, a Jewish dry cleaner, was saved from Nazi capture in Germany by a young woman during World War II.
Penned by Fusco and co-writer Chris Neighbors, the indie film was shot entirely in San Diego County.  Scenes were filmed on the streets of Hillcrest, Balboa Park, a pawn shop on University Avenue, the Chuck Jones Gallery in the Gaslamp, a La Jolla estate staged as a Newport Beach mansion, a farm in Ramona, and Shelter Island Cleaners.
Rounding out the cast is Ken Davitian, Mateo Arias, Michael B. Silver, Liza Lapira, Malina Moye, Catherine Siggins, and Philippe Bowgen.
The Samuel Project is being produced by Steve Weinberger, Rebecca Reyes, co-producer Gary Cohen of Garmar Ventures and executive producer Jeff Deverett of Deverett Media.
Though there's a good little bit of wit that comes fundamentally with all the generation gap between grandsons and grandfathers. I believe telling the story of someone, who hardly escaped Nazi Germany as a lad, through the lens of his grandson's art project will give a distinctive glimpse of exactly what the legacy of a lot of survivors might look like now, with all the nice and also the bad.

– Marc Fusco, Director
Destiny Ochoa visits the stars of "The Samuel Project"
The Samuel Project (2017)
Cast
Liza Lapira … Nadia Akiyama
Mateo Arias … Kasim
Hal Linden … Samuel
Ken Davitian … Vartan
Michael B. Silver … Robert
Ryan Ochoa … Eli
Catherine Siggins … Laura
Justin Little … Superhero
Raye Richards … Maid
Ken Venzke … Kevin Merrick
Callie Gilbert … Young Uma
Anahid Avanesian … Counselor Margaret
Philippe Bowgen … Mr. Turner
Lauro Rocha … Julio
Teriza Camaisa … Stacy
Lilinda Camaisa … Dr. Linda Jamir
Malina Moye … Violet Leroux
Trina Kaplan … Uma
Keira Weinberger … Gerty
Dylan James Weinberger … Young Samuel
Miles Grant … Dr. Daniel Kaplan
Mark Allyn … Police Officer (uncredited)
Produced by
Rebecca Reyes …. producer
Steve Weinberger …. producer
Jeff Deverett …. supervising producer
Gary Cohen …. co-producer
Allan Camaisa …. associate producer
Lilinda Camaisa …. associate producer
Ted Camaisa …. associate producer
Beth Craig …. associate producer
Gary Craig …. associate producer
Laura Darius …. associate producer
Justin Little …. associate producer
Judy Marshall …. associate producer
Lauro Rocha …. associate producer
Ken Venzke …. associate producer
Marna Venzke …. associate producer
Bob Weinberger …. associate producer
Chuck Weinberger …. associate producer
Harold Weinberger …. associate producer
Rebecca Reyes …. line producer
Directed by
Marc Fusco
Writing credits
(in alphabetical order)
Marc Fusco …. story
Marc Fusco …. written by
Chris Neighbors …. story
Chris Neighbors …. written by
Steve Weinberger …. story
Cinematography by
Stephen Sheridan
Production Design by
Heidi Strykiewicz
Art Direction by
Annie Laurie Miller
Set Decoration by
Heidi Strykiewicz
Costume Design by
Yasmine Abraham
Makeup Department
Marisol Garcia …. key makeup artist
Marisa Serrano …. makeup artist
Second Unit Director or Assistant Director
Casey Nicholas-Price …. first assistant director
Trevor Romero …. second assistant director
Art Department
Keri Butler …. set dresser
Todd Farmer …. set dresser
Lizzete Flores …. set dresser
Martin Gaillard …. on-set dresser
Martin Gaillard …. property master
Brandon Hazou …. set dresser
Brittany Karen …. set dresser
Sal Navarro …. set dresser
Bella Riboni …. sketch artist
Reid Volk …. intern
Sound Department
Jackson La Mar …. boom operator
Austin Winnie …. sound mixer
Camera and Electrical Department
Kevin Hahn …. best boy electric
Kellee Hiatt …. dit
David Jester …. second assistant camera (as David Jester II)
Alex Niknejad …. grip
Harris Smith …. bestboy grip
Sam Taybi …. gaffer
Michael Westby …. best boy electric
Michael Westby …. electrician
Casting Department
Steve Weinberger …. casting coordinator
Other crew
Mark Allyn …. production assistant
Mario Amodeo …. chess consultant
Jane Hare …. production coordinator
Mika McCurry …. craft service
Meghan Pezzano …. script supervisor
Joubin Anthony Zade …. production assistant