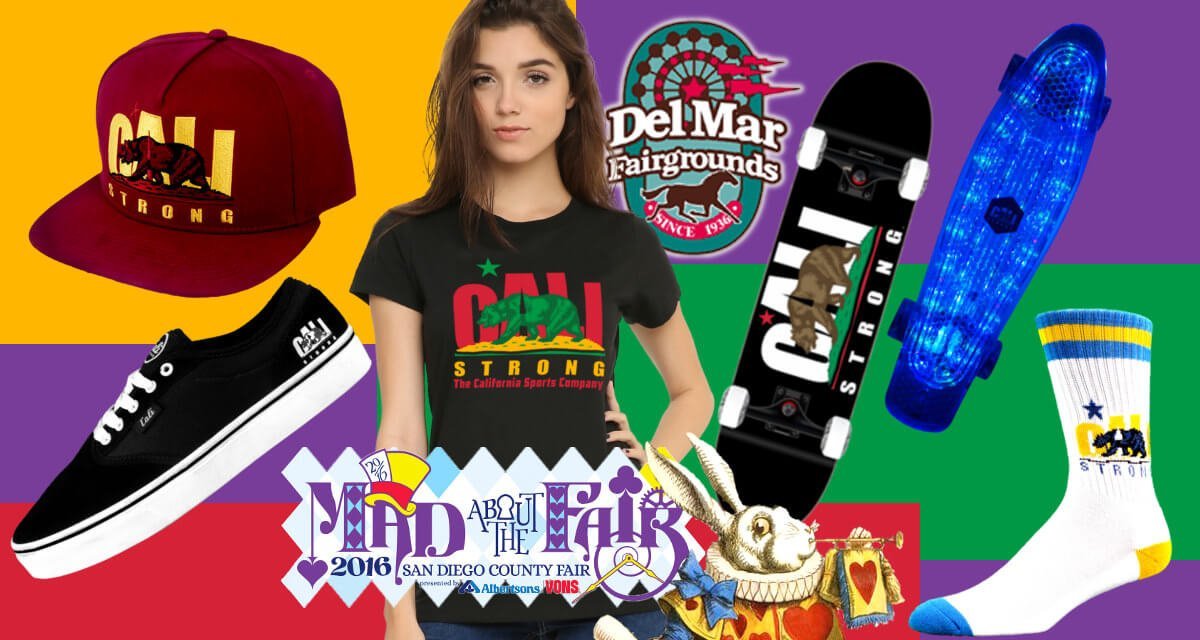 CALI Strong at the San Diego County Fair / Del Mar Fairgrounds 2016
Start your summer off right with CALI Strong at the San Diego County Fair! For the very first time, CALI Strong is presenting our fresh 2016 merchandise line-up. The fair will be the public's first chance to purchase the newest CALI Strong skateboards boards, beach cruisers, shoes, t-shirts hoodies, hats, and clothes. All of CALI Strong's Shoes come with free designer socks. Buy 2 Get One Free Special On Any Pair of Hats, Socks,
T-shirts or Light Decks at the San Diego County Fair!
Buy 2 Pair, Get 1 FREE! Visit us at the fair in booth #3313 to get VIP Discounts and Special Fair Only Items!

History of the San Diego County Fair
The San Diego County Fair was once known as the Del Mar Fair. Consistently, more than one million people attend annually! That dwarfs the attendance numbers of the nearby Ventura County Fair. Almost 1.5 million people visited the San Diego County Fair in 2015 with daily attendance reaching 60,000. The highest single day attendance in 2015 was 92,948!
Following the Ventura County Fair by only six short years, the San Diego County Fair was first started in 1880. Several of the state festivals from that period are still held today. It was merely an agricultural fair when it opened in 1880, and it went from place to place until it eventually reached its permanent home in Del Mar. Del Mar was chosen for its proximity to the 101 and the Santa Fe railroad line.
The name, San Diego County Fair, was not widely used to refer to the event until 2002. Before that, it had been called the Southern California Exposition, the Southern California Exposition and San Diego County Fair, and the Del Mar Fair. Some residents still make reference to it as the Del Mar Fair.
The trademark feature of the fair used to be a beauty pageant. It was an annual feature from 1936 to 2003. The winner was initially called the Queen of the Fair. Then winner's title was changed to the Fairest of the Fair. It was discontinued in 2004 because of a legal squabble and the high cost of maintaining the beauty pageant.
The fair has had a theme every year since 1998. In 2015, it was "A Fair to Remember" and this year the theme is "Mad About the Fair".  It is a grand-scale tea party featuring the renowned Lewis Carroll classic Alice's Adventures in Wonderland, fused with influences from steampunk, cosplay, great literature, wacky machinery, and all the fun and magic you have come to expect.
For the 2016 fair, attractions & exhibits include the following:
Asian Festival -This 2nd annual, award-winning event is a celebration of Asian and Pacific Islander cultures, featuring music, dance and martial arts performances, as well as fashion and community-based organizations representing China, Philippines, Vietnam, Korea, India, Hawai'i, and Japan.
Tea Time In Wonderland  – Every Sunday enjoy a proper Wonderland tea, and make a hat under the guidance of Charity Wings Art & Craft Center that you will take home.
Mounted Shooting Western Competition – Brings together distinguished riders from beginner to pro divisions and turn the Del Mar Arena into a mecca of Western realism and traditional Americana.
San Diego International Beer Festival
From June 17th to June  19th 2016
The San Diego International Beer Festival has become one of the biggest beer festivals and competitions in the U.S.! With more than 400 beers from around the world to choose from, beer aficionados will enjoy hard-to-find specialty craft brews alongside local Del Mar favorites. Enjoy educational demonstrations with recognized industry professionals to food pairings prepared by So Rich Chocolates and Venissimo Cheese.
Food of the San Diego County Fair

Organizers say there will be more than 100 food vendors sprinkled across the fairgrounds cooking up more than 1,000 different items. Some of the foods added to this year's lineup include:
French Toast Bacon Bomb
Deep Fried Nachos
Kool-Aid Hot Wings
Fried Pizza
Deep Fried Lemonade
Hatter's Mad Mash Up Burger
Pink's Madhatter Dog
Lasagna Sandwich
Waffle Sunrise Sandwich
Live Free Performances All Summer With Admission
There's a lot more to be seen & experienced at the fair. See the animals, go on rides and play games, and enjoy delicious meals & drinks. There is also a wide selection of live entertainment including singers, bands, artists, performers, and comedians. The San Diego Fair is attended by over a million people, and there is a ton of stuff to do.
It's a good idea to go more than once each season.
Live Free Performances All Summer: SWITCHFOOT performs the fair in 2015
Fair Exhibition of Photography
With more than $25,000 in prizes and awards, this exhibit is one of the largest competitive photographic shows on the West Coast.
A panel judged show, it is open to professionals and amateurs throughout the world. About one-third of the images entered are chosen for display.
San Diego County Fair Admission Ticket Rates
$16 for adults
$9 for children ages 6 to 12 (free on Tuesdays)
$9 for adults 62 and older
Free for kids ages 5 and younger
Season Pass: The Best Pass Ever for $26!
The Best Pass Ever is good for  26 days and costs only $26! The Fair's season pass lets you into the Fair as much as you like for one low price – $26 for all 26 days of the Fair. When you have a Best Pass Ever, you save money on our ticketed festivals and concerts, because you already have paid for your Fair admission!
San Diego County Fair Parking
Parking at the Fairgrounds costs $10 per vehicle and is cash-only. Preferred parking is also available for $20 per car in a specially-marked parking zone just past the main entrance.
Free parking is available at three off-site lots, too, and then attendees can take a free shuttle service into the fair that leaves from the lots every 15 to 20 minutes. Those lots are located at Horsepark (14550 El Camino Real), MiraCosta College's San Elijo Campus (3333 Manchester Ave.) and Torrey Pines High School (3710 Del Mar Heights Rd.).
San Diego County Fair Hours
The dates for the 2016 San Diego County Fair are June 3 through July 4. The Fair is closed Mondays except July 4th and the first two Tuesdays. (Closed dates are June 6, 7, 13, 14, 20 and 27.)
| DAY | GATES & BUILDINGS | FUN ZONE |
| --- | --- | --- |
| Friday, June3 | 4:00PM-11:00PM | 4:00PM-Midnight |
| Tuesdays | 11:00AM-10:00PM | Noon-11:00PM |
| Wednesdays | 11:00AM-10:00PM | Noon-11:00PM |
| Thursdays | 11:00AM-10:00PM | Noon-11:00PM |
| Fridays | 11:00AM-11:00PM | Noon-Midnight |
| Saturdays | 10:00AM-11:00PM | 11:00AM-Midnight |
| Sunday | 10:00AM-10:00PM | 11:00AM-Midnight |
| Sunday July 3rd | 0:00AM-11:00PM | 11:00AM-Midnight |
| Monday, July 4 | 10:00AM-11:00PM | 11:00AM-11:00PM |
San Diego County Fair Location
Address: 2260 Jimmy Durante Blvd, Del Mar, CA 92014
Phone: (858) 755-1161