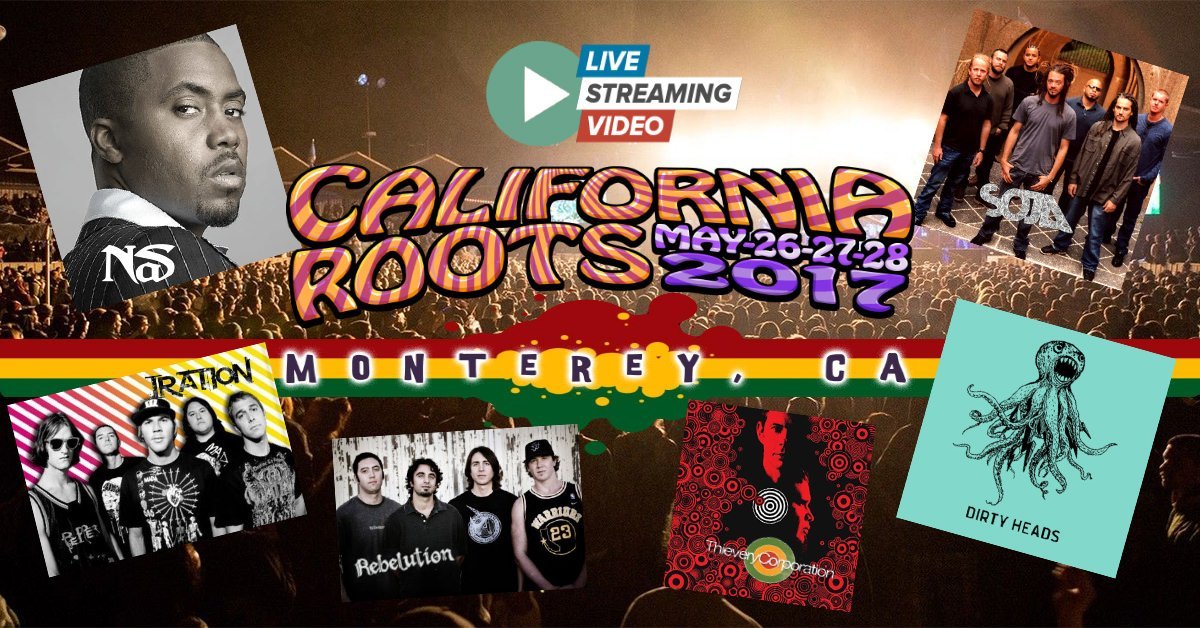 California Roots Festival FREE Live Streaming On-line May 26-28th 2017
The California Roots Music and Arts Festival is one of California's leading music and arts festivals! Happening May 26-28, 2017 in lovely Monterey, California, the festival brings top tier reggae and roots music to the area's deeply rooted music scene for three jam-packed days of tunes, community, art and sustainability.
California Roots will be streaming live from May 26-28th, featuring 20+ hours of live performances, backstage interviews and exclusive access footage. Some of the artists include Nas, Iration, Rebelution, Dirty Heads, Soja, Thievery Corporation, Passifire, Stick Figure and more.
This past year has seen tremendous growth in our roots music scene, and we are proud that 2017's lineup includes recent GRAMMY nominees Rebelution and SOJA. Showcasing hip hop icons like Nas and Jurassic 5, alongside the global electronic acts Thievery Corporation and Rising Appalachia takes our programming to a whole new level. With more art and announcements on the festival experience coming, we plan to embody the Monterey Pop Festival spirit as it celebrates its 50th anniversary,"

– Dan Sheehan, Festival Co-Producer
To celebrate, California Roots will release a limited edition vinyl picture disc featuring songs from bands on this year's line-up. The release California Roots Vol. 1, is available for pre-order at http://californiarootsfestival.com. Attendees will be available to purchase the vinyl at the festival, but pre-orders are strongly recommended with only 1,000 copies pressed.  The album was produced by festival co-producer Dan Sheehan alongside Eric Smith and Lem Oppenheimer of the indie taste maker label Easy Star Records.
The unique festival will feature diverse programming on three stages with minimal overlap between sets, which is rare for an event of this size.
Rebelution (2017, 2016, 2014, 2013, 2011), a Cali Roots favorite will be headlining this year, picks up its first GRAMMY nomination with their chart-topping album Falling Into Place on Easy Star Records.
American reggae pioneers SOJA (2017, 2015, 2014, 2012), will also perform this year and are receiving their second GRAMMY nomination this time for their live album, SOJA: Live in Virginia.
Rebelution
SOJA, Stick Figure, Matisyahu
Common Kings, Passafire, Jesse Royal
SIX60, Zach Deputy, Beebs, The Late Ones
Synergy, Skanks Roots Project
Nas
Iration, Nahko and Medicine For The People, Alborosie
Protoje, Easy Star All Stars, Yellowman, Rising Appalachia
Unified Highway, Through The Roots, Tribal Theory
Tyrones Jacket, Darenots
Dirty Heads
Thievery Corporation, Jurassic 5, Collie Buddz
Anthony B, John Brown's Body, RDGLDGRN, Ballyhoo
Jah9, Mellow Mood, Humble Soul, Iya Terra, Roots Of Creation